Got a tough mess to clean? You've come to the right place.
Learn how professionals use Super Clean with our step-by-step tips.
Automotive
Cleaning your engine and parts with Super Clean improves and maintains your car's performance the same way changing the oil and spark plugs does. You're proud of your car or truck. Super Clean is the best way to get "over-the-top" clean, even under the hood.
With Super Clean, you can Super Clean the following: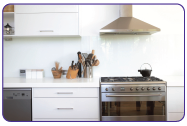 Indoor
When was the last time you deep-cleaned your kitchen appliances, carpeting and bathroom fixtures? There's no place like home to unleash the power of Super Clean. Our heavy-duty formula allows you to simply spray, rinse and wipe away the tackiest, gooiest, hidden-behind-the-stove messes. Super Clean is great for cleaning grease-stained laundry too! No fuss. No muss.
This is how you can use Super Clean Cleaner-Degreaser on different areas of your home:
Outdoor
The great outdoors have a way of leading to great big messes. Super Clean not only makes your BBQ grill, pool and patio furniture, lawn mower, driveway, awnings and tools look great…they'll perform better and last longer, too. Super Clean means less cleaning time so you'll get more hammock time.
Follow this guide for instructions on how to use our degreaser:
Recreation
Super Clean cleans and restore bikes, RVs, boats, ATVs, and the other vehicles. Choose from our full lineup to quickly wash away dirt and contamination on your prized possessions. Because the faster you can clean your stuff, the faster you can use it.
Remember that each vehicle type has different cleaning requirements, so follow this guide for ways to use our degreaser.
Miscellaneous
Chances are you have other items that could use a super cleaning. Refer to our Dilution Chart for recommended product strength.